I'm not really sure how I feel about the subject of this blog.? On the one hand, it shows we are part of the village and included in its events; on the other hand, it reminds us of something that we have not yet admitted to – that we are an ageing couple.
This morning, there was a knock on the door) some people see the doorbell and some don't) and, when I opened it, I was greeted by two smiling ladies wearing Santa hats.? They were each carrying shopping bags emblazoned with the name of one of the local supermarkets and? offered one to me, along with greetings for the season.? At first, I thought they were trying to sell me something and asked what it was they wanted to hand over into my care.? One of the ladies explained it was a gift from the commune to all the a?n?s (elders).? We are a?n?s as Hubby is over sixty-five.? I therefore smiled broadly, received the bag of goodies, exclaimed 'Tr?s gentil! (Very kind!) and took the bounty inside.
The bag contained a lovely selection of p?t?, biscuits, brioche, chocolates, spiced bread, nibbles and – of course – a bottle of wine!? It is very warming to feel that we have not been left out, just because we're newbies, although I suspect that no-one is omitted if they fall into any given category.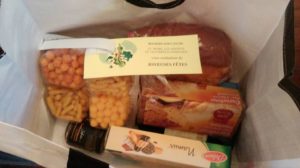 So – happy, because we have been included, or ambivalent, due to the implications of our advancing years?? Best to go with the positive for now and just enjoy the gift!