It has been a long time since the last blog post, as access to the server was patchy at best, non-existent at worst.? Thank Orange France – another story for another day.
There have been many changes to family life in the last five months.? We have found, negotiated, bought and moved into a house in France.? This wasn't the original intention but looking for the right house, at the right price, in the right area had been nine months of fruitless searching.? First, the market just seemed flat.? We had looked in ever increasing circle until we were even considering the West Country.? This would, however, have been at least a five hour drive – six, if you add an hour's break which, at our age would be required – from any family and this was not an attractive prospect.? Even so, anywhere we could afford was in an isolated position or so small that we would have been uncomfortable.? And we had sold our house, so the clock was ticking.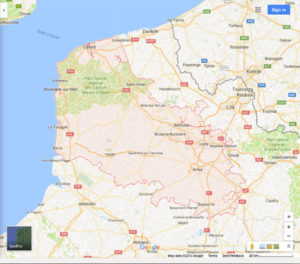 So we ended up in France.? Not a big city like Paris or Rheims.? Not a wine region (although that would have been cool) but a small village of less than seven hundred people, nestling in the Pas de Calais.? It is still, very much, a farming/rural community but that doesn't mean we will be keeping cows.? Chickens, perhaps, and the odd duck, but nothing large and potentially dangerous.? Or that needs milking.
So when we decided that we would make this move, we started looking at one storey ex-farmhouses (fermettes) – thinking ahead to the years of our dotage.? We looked at lots online and then actually viewed some, but they were all in worse condition than they appeared in the photos.? On top of that, because they were constructed using a certain type and length of tree trunk for the roof beams, they were only ever 'so' wide, with one room running into another or a corridor running the length of the building.? The first option made the rooms less private and the second made them smaller.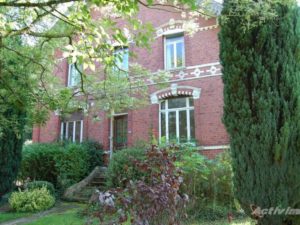 Then we saw Our House.? To begin with, it is three storeys, the top one being a loft conversion up to a possible thirteen years old. It was offered with six bedrooms, two bathrooms and a downstairs cloakroom, kitchen, salon (posh lounge) and salle (day to day lounge)/dining room.? It also has cellar and a range of outbuildings, as well as a half acre (about 2200 sq.m.) of garden. When we first saw the details it was way out of our range but, within a month, it had come down to a reasonable (for us) price and we agreed a deal with the owners.? So, here we are.
The house was actually built as the mayor's house, by the mayor, in 1908.? His granddaughter lives next door in the house he built for his mother.? The house has quite a history and there are tantalisingly interesting stories abut the property that will be uncovered, I hope in due course.? We shall all have to wait for that.