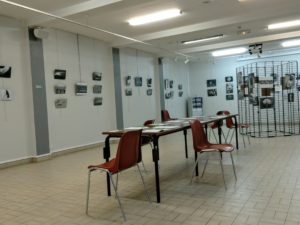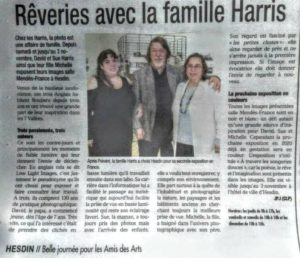 A real landmark in our lives. We are now well into our second photo exhibition since moving to France. It is a black and white collection made up of photos taken by all three of us and this is the second time we have exhibited it, the first being in the museum of a town five minutes from home in the other direction to this one. It took much heartache and decision-making to put it together but we're pleased with the result. It's interesting that we were meant to be putting on a colour exhibition but, through unavoidable technical issues, we had to change our minds at almost the last minute. In a strange twist, we have had many compliments and comments on how unusual it is to have a whole exhibition dedicated to black and white; it seems to be something for which the French have a soft spot.
The opening of this show was on Saturday morning a week ago. The mayor of the town attended and made a lovely, thoughtful speech, the press? were there and some thirteen attendees, apparently not bad for one of these things, although throughout the day we saw fifty-three in total pass through the doors.. There was fizzy wine and lots of conversation. One of the reporters, himself an artist and photographer, wrote a very sympathetic piece which took up about one third of a tabloid sized page.
Sunday was a bit quieter but we had sixteen visitors so we weren't alone all day. This was a truly memorable day as, whilst we had already sold some postcards and greeting cards, someone actually bought a photo off the wall! She, also, was an artist, whose style is very different from ours so it made it all the more exciting that she wanted to buy one of our pieces. We almost didn't cotton on when she asked to buy it and it took us a while to respond but yes, she left with a photo and we were the proud owners of a cheque.
We had to man the hall ourselves so made the decision to only open four days a week: Thursday, as it was market day, Friday, Saturday and Sunday.? On our days of rest I was thinking about a couple of families who had come in with small(ish) children and had some difficult keeping them focused. I slipped effortlessly into teacher mode and designed a short quiz sheet based on the photos on the wall, discussed it with the other two, revised it and printed some out in French and English. I wasn't actually there on the next open day but I was informed later that two sets of French children had completed a sheet and the adults felt it was a very good idea. Phew! I haven't lost it!
Yesterday at roughly 15.15, our one hundredth visitor walked through the door. That's in less than three days. We are happy.