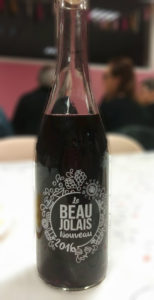 Many years ago we learned of the mystical appearance of Beaujolais nouveaux onto the wine shelves. Living in England, it was frequently over priced and often nothing special. I've heard the same from people around the world. After a few tries, we gave up attempting to beat everyone to the shops for one, expensive bottle of a wine that might – or might not – be worth the stress and the money. Now, of course, we are in the Land of Wine and there is a different story to be told.
Last year, on a short break to France, we found a small town in which there was a very good wine shop. I suspect all wine shops are good, to be honest, but this one had the bonus of an owner who spoke English and the wine was surprisingly reasonable priced. We have also learned to trust his judgement – he once put us off buying a particular (more expensive) wine for another (cheaper) one. It was a very good wine! On this trip it was just after the new Beaujolais had come onto the market and there were tasters. I fell in love with a Beaujolais Nouveaux Villages and we took back some bottles.
This year we waited with bated breath for the new wine.? Apparently, last year was a particularly good one but we still had high hopes.? We haven't managed to get to our favourite shop yet, but an English friend, who has been here many years, invited us to his village's 'do' to welcome in the new wine.? It was good fun and the wine was excellent.? It was accompanied by barbecued herring and various filled baguettes, but the food didn't really matter.? I suspect it was only there to soak up the alcohol – there was a lot of bread!? We actually met people we knew, as it wasn't only folk from that village who were there
I await, with interest, reports from our English and other friends who might try some of this year's crop, as I wonder whether the very best is not exported but kept for local consumption.? Anyway, we enjoyed our taster and will certainly be buying some of this year's bounty.? Chin chin!?