Well ahead of time, this event was publicised around the village and on the roads to the nearest two centres of habitation, both reasonable sized towns.? The March? de No?l could have been anything – we are a relatively small village of something over six hundred inhabitants and I have memories of other such events in England that it wasn't worth putting your coat on for.? We walked down to the meeting room, which is attached to the mairie, where we had been for the Over-60s meal a couple of weeks ago.? As we entered, it was clear that they took this event very seriously.? There were already some stalls in the entrance hall as you entered and?? everything was tastefully decorated. The hall was laid out with some dozen or more stalls, all covered in beautifully made goods.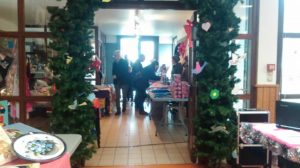 Our attention was immediately taken by the table laden with food across the hall from the entrance.? On it, there were large and small examples of a selection of regional dishes, some very local indeed.? We decided to buy a tartiflette, a simple but filling dish comprising potatoes, lardons, white wine, onions, various other seasonings and a particular cheese called reblochon. Naturally, many people will tell you that their region/town/village makes the only traditional dish.? That's normal.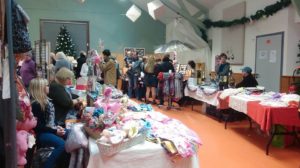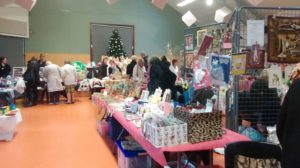 We did a circuit of the room, stopping a number of times and buying one or two items between us.? It was an interesting experience.? A number of people came up and greeted us, introducing themselves and saying 'we all know about you'.? One lady – at the food stall – even said we are famous in the village.? She didn't expand on that but we wonder if it is because we have moved in and settled, rather than just using our property as a holiday retreat.? Either way, it is clear that they (collectively) know a great deal more about us than we know about them.? We intend to remedy that situation.? I wonder if there is a 'Who's Who' of Boubers?